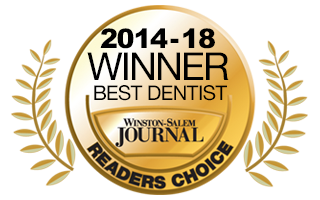 At our office, you are warmly welcomed as part of the family the moment you walk in the door. There are no awkward interactions or cold, clinical care, and most certainly no suspicious, fabricated treatment recommendations. Our no-pressure, patient-first approach allows us to get to know the person behind the smile, developing relationships with individuals and families in the process; something we truly value. We are grateful that our patients have rewarded our efforts with several distinguished awards, all of which we treasure greatly.
We received the "Best Dentist" award in 2014, 2015, 2016, 2017 and 2018. This award is based solely on public votes and is part of the annual Winston-Salem Journal's Readers Choice contest which recognizes the area's best businesses, restaurants, healthcare providers, among other categories. With well over 100 dental practices in the greater Winston-Salem area, it is a true honor and we appreciate all of the support.
A more clinical award determined using both patient input and a thorough screening process is the Opencare Patients' Choice award which we received in 2015. We were ultimately selected to receive the award after 94 local dental practices were nominated and screened. Opencare is a national, online resource that helps patients find the best healthcare providers located closest to them. As explained by Opencare, "We see this as a gateway to simplifying all interactions between patients and providers; ultimately making health care more personable, approachable and accessible."
In 2016, our office was nominated and selected by the National Consumer Advisory Board (NCAB) as one of the best dental practices in America. "The NCAB is a private research organization that provides consumers information about the finest professionals across the nation…no fees, sponsorships or donations are accepted." Selections are made based on an assessment of dentists' experience, training, continuing education and commitment to excellence to ensure the most impartial, unbiased review of all applicants.
Finally, our practice has been recognized with editorials in national publications ("Personalized Dentistry" featured in Woman's Day, Good Housekeeping and Redbook) along with features in reputable local periodicals and online blogs ("Simply Better Dentistry" featured in Forsyth Family magazine, Winston-Salem Monthly magazine, Triad Moms on Main, and Forsyth County Women's Journal).